Some faculty approach a course syllabus as a contract with students. Others consider it a learner-centered document that invites student participation in directing the course itself. Regardless of the way that an instructor conceives of a syllabus, the time and care that an instructor spends on syllabus preparation will reap benefits. The following tips can assist you as you design (or re-design) your course syllabi.
Why is the syllabus important?
The syllabus establishes the purpose, nature, and tone of a class and serves as an early point of contact between instructor and student.
A detailed course syllabus, handed out on the first day of class, gives students an immediate sense of what the course will cover, of what work is expected of them, and of how their performance will be evaluated. It helps the students form an initial impression of the course and also of the instructor.

A properly designed syllabus increases the likelihood of student success in your class by guiding learning in accordance with your expectations and assisting students in assessing their readiness for the course. The well-crafted syllabus also demonstrates that you take your teaching seriously and that you care about students' learning.

A well-designed, detailed syllabus serves as a roadmap of the course for both instructor and student and decreases the number of problems that arise.
The process of creating a syllabus can aid in the design and development of a course by helping you clarify the course's goals and structure.
The syllabus provides pertinent information about your course to your colleagues and department.
How should I get started in creating a syllabus?
Anticipate the general questions that will be in the minds of students and provide answers to those questions in your syllabus.
Academic departments generally have a copy of course descriptions available for instructors. In many instances department or school faculty have reached a consensus on course description, rationale, and objectives for all courses and these have been approved by the relevant curriculum committee.
It there is no standard syllabus, the department can provide you with one or more course syllabi that can be used as examples of the department's expectations regarding syllabi format and content.
A typical syllabus includes the sequence of assigned readings and activities by date and topic and provides information on course policies and procedures.
When deciding what to include keep in mind that more rather than less material is preferred. However, avoid using lengthy prose and stick to bulleted lists or short sentences. You may wish to use outlines, charts, or diagrams to organize the information.
Does your syllabus contain the following?
Course number, section, title, meeting days and time, room and building.
Your name, title, office number, telephone, email, web address, office hours.
Required purchases: texts and supplies.
Prerequisites.
Course goals or objectives.
Schedule of assignments: readings, exams, papers, and other required learning assessment activities.
Grading standards and criteria—students should know what elements of the class will determine their final grade and what grading scale you will use in assigning the final grades.
Course policies regarding attendance: participation; make-ups; late assignments; tests or examinations; extra credit; extensions; illness; cheating and plagiarism; and P/F, I, and W grades.
A disclaimer such as "The above schedule and procedures are subject to change in the event of extenuating circumstances."
Would your students benefit from any of the following?
Explanation of the conceptual structure used to organize the course.
College policies regarding withdrawing, accommodations for students with disabilities, inclement weather, fee and refund schedule, term calendar, and academic dishonesty.
Statement that provides an estimate of the student work load. How much time should students plan to spend on reading assignments, problem sets, lab reports or research?
Glossary of technical terms used in the course.
Statement about civility in the classroom.
Bibliographies of supplemental readings at a higher or lower level of difficulty in case students find the assigned readings too complex or too simple.
List of campus resources for tutoring and academic support.
List of co-curricular activities relevant to your course (e.g. lectures, plays, events, exhibits).
Supplementary material to help students succeed in the course: studying, note taking additional readings or resources.
Space for names and telephone numbers of two or three classmates.
Statement on your beliefs about teaching and learning and instructional methods you will use.
Document Design Considerations for Syllabi
Keep visual impact and navigability in mind

Use serif fonts for main text, sans serif for headings, captions, etc.

Chunk and signpost effectively

Use icons, sidebars, horizontal rules, etc., in addition to bold, italics, and regular text.

Don't forget about accessibility!
Be consistent in your formatting (proofread!).
Include page numbers.
Syllabi for Online Courses: A Few Important Tips
Make syllabus available to students before course begins

Attach it to your welcome email
Post it on the course site early

In webpage-based syllabi, include brief explanations of policies, major assignments, etc., and provide links to fuller ones.
Also outline tech support policies, netiquette, and how the online course differs from a face-to-face one.
Duplicate information

Post whole syllabus on course site, but copy and paste relevant sections into your assignments, forums, announcements, etc.
How can you get students to read the syllabus?
Syllabus Quiz

Create a quiz with common questions about the course.
Distribute quiz to students along with the syllabus.
Have groups work together to complete the quiz.

Syllabus Experts Exercise

Organize class into groups.
Give each group a different section of the syllabus to review and master.
Have each group present their section to the class 

Clicker Tour

Put questions about the class on a PowerPoint.(e.g., "How many tests do we have?")
Hand out the syllabus and organize the class into groups.
Require the groups to navigate the syllabus and respond to the questions with their clickers.

Expectations Exercise

Organize class into groups or pairs.
Instruct each group to discuss what they expect on a syllabus and why (or what questions they have about the course content and structure).
Hand the syllabus out to the class.
Have each group compare their list of expectations or questions with the actual syllabus.
Follow up with a discussion to address any remaining questions or concerns.
Consider having the groups identify one thing they learned about the class that surprised, shocked, or interested them, or about which they want to learn more.
Examples of Visual Syllabi

References
Barkley, E.F., Cross, K. P., & Major, C.H, & (2005). Collaborative learning techniques: A handbook for college faculty.  San Francisco: Jossey-Bass.
Davis, B. G. (2009). Tools for teaching (2nd ed.). San Francisco: Jossey-Bass.
Grunert O'Brien, J., Mills, B.J., Cohen, M.W. (2008). The course syllabus: A learning-centered approach (2nd ed.). San Francisco: Jossey-Bass.
McGlynn, A. P. (2001). Successful beginnings for college teaching: Engaging your students from the first day of class. Madison, WI: Atwood Publishing.
Stephan, J. (2000). The Syllabus and lesson plan. In D. E. Grieve (Ed.). Handbook II advanced teaching strategies for adjunct and part-time faculty (pp. 55-62). Ann Arbor, MI: Adjunct Advocate.
University of Minnesota Center for Teaching and Learning (n.d.). Syllabus tutorial. Retrieved from http://www1.umn.edu/ohr/teachlearn/tutorials/syllabus/what/index.html
Authored by Peg Weissinger (October, 2003)
Revised by Jennifer Beasley (September, 2011)
Revised by James Gregory (August, 2015)
Helpful Links
Related Guides

Recommended Book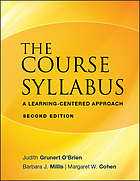 The Course Syllabus
Call Number: LB2361 .G78 2008
ISBN: 0470197617
Publication Date: 2008-03-28
When it was first published in 1997, The Course Syllabus became the gold standard reference for both new and experienced college faculty. Like the first edition, this book is based on a learner-centered approach. Because faculty members are now deeply committed to engaging students in learning, the syllabus has evolved into a useful, if lengthy, document. Today's syllabus provides details about course objectives, requirements and expectations, and also includes information about teaching philosophies, specific activities and the rationale for their use, and tools essential to student success.